Virtual Museum
Seventy-Five Years of Flash Gordon
Since Alex Raymond first set pen to paper, Flash Gordon has been capturing the imaginations of science fiction fans worldwide.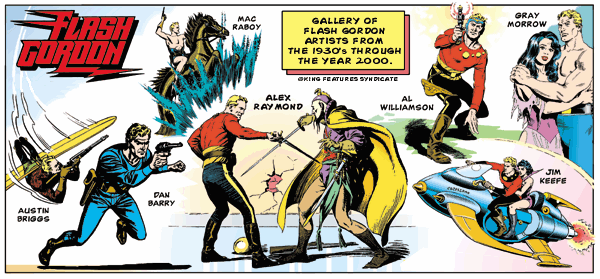 Timeline
1909 - New Rochelle, NY - Alex Raymond is born.
1934 - January 7 - King Syndicate seeks a comic strip to compete with the successful Buck Rogers "adventures on other planets" and Alex Raymond creates the Flash Gordon comic strip for the Sunday newspapers.
1935

April 27 - Flash Gordon radio series debuts - "The Amazing Interplanetary Adventures of Flash Gordon" - Produced by the legendary Himan Brown, 26 weekly fifteen minute episodes air featuring Gale Gordon as Flash.
October - The last two episodes of the weekly radio series air as "The Adventures of Flash Gordon and Jungle Jim". (Jungle Jim was another Raymond cartoon distributed by King Syndicate). The show then splits with "Jungle Jim" serialized weekly and "The Further Interplanetary Adventures of Flash Gordon" airing 74 twenty-five minute episodes broadcast five days a week.

1936 - Universal releases the "Flash Gordon: Space Soldiers" movie serial (13 chapters) with Clarence "Buster" Crabbe as Flash and Jean Rogers as Dale. Massively successful, it inspires studios to transfer many other comics to the screen (The Phantom, Dick Tracy etc.)
1938 - Universal releases "Flash Gordon's Trip to Mars" movie serial (15 chapters). Buster Crabbe and Jean Rogers again star.
1940

Universal releases "Flash Gordon Conquers the Universe" movie serial (12 chapters) Buster Crabbe remains as Flash but much of the cast is new, including Carol Hughes as Dale.
Austin Briggs begins the Flash Gordon daily comic strips. It follows an entirely separate plot-line to the ongoing Raymond Sunday strip

1944 - Austin Briggs takes over the Sunday comic strip as Raymond enters the Marine Corps as Information Officer and Combat Artist, rank of Major. The dailies are discontinued.
1946 - Raymond, unable to return to Flash because of the contract Briggs signed with King Features, creates the "Rip Kirby" strip for King.
1948 - Mac Raboy takes over the comic strip from Briggs
1951

Daily comic strip restarts.
Flash Gordon movie serials debut on American TV. NY Critic Jack Gould lambastes producers for the incessant violent combat and their "reckless social behavior". The show was pulled. Six months later another station started broadcasting the serial to no protest.

1954 - Gunther von Fritsch ("Curse of the Cat People") directs 39 thirty minute episodes of Flash Gordon. It's 2203AD and Flash, Dale and Zarkov are agents of the Galactic Bureau of Investigation sent to battle the likes of Em of Odin, the Queen of Cygnil, and Bizdar the Mad Witch of Neptune, i.e. this is not exactly based on the Alex Raymond strip. It stars Steve Holland (the model for the covers of the 70's Doc Savage novels) and Irene Champlin.
1956 - Alex Raymond's sports car overturns on a wet South Morningside Drive in Westport, Connecticut and crashes into a tree. He is killed instantly. His wife, two sons and three daughters survive him.
1957 - 1971 The Dark Ages for Flash Gordon.
1972 - The X-rated "Flesh Gordon" movie debuts in cinemas with Jason Williams and Suzanne Fields in the title roles. It quickly becomes a cult movie among male adolescents of the industrialized west. Action figure Penisaurus discontinued after successful Jerry Falwell suit.
1976 - A young filmmaker named George Lucas makes inquiries about developing a Flash Gordon movie. He is rebuffed and goes on to make Star Wars, a rather successful venture.
1979

"Flash Gordon" cartoon debuts on TV (16 thirty minute episodes). Bob Ridgely and Diane Pershing are the voices of Flash and Dale.
"Flash Gordon Battles the Galactic Forces of Evil" (59min) and "Flash Gordon: Space Adventurer" animated features released.

1980

Second season of "Flash Gordon" cartoon airs (16 twelve minute episodes).
"Flash Gordon" movie released. Sam Jones and Melody Anderson portray Flash and Dale. Irene Champlin and Steve Holland appear in small supporting roles. Topol is Zarkov.

1982 - "Flash Gordon: The Greatest Adventure of All" animated film (100 min) is broadcast by NBC. Reportedly based on the Alex Raymond original strip, this film however has Flash as an official of the US State Department stationed in 1939 Poland.
1990 - Bruce Jones and Ralph Reese take over writing and art of the comic dailies and Sunday strips
1991 - King Features "Animated Comic's" series feature several episodes of Flash Gordon stories
1993

"Flesh Gordon 2: Flesh Gordon Meets the Cosmic Cheerleaders" hits the screens. Vince Murdocco and Robyn Kelly star in this less revolutionary sequel to the 1972 classic.
Newspaper comic strip dailies are discontinued.

1996 - Jim Keefe takes over as the newspaper comic strip artist and writer and interest in the strip increases and it returns to some newspapers.
2000 - The One Act Players release, "The Amazing Interplanetary Adventures of Flash Gordon: Episode One: The New Planet".
2001 - One Act wins the silver Mark Time Award for excellence is science-fiction for their Flash.
2003 - Production of new Flash comics cease; series continues as re-runs only.
2007 - The Sci-Fi Channel airs a new Flash Gordon. Eric Johnson and Gina Holden star. Show is cancelled in 2008.
2008 - Rumors are always circulating about future Flash productions. Stand by for updates.
Gallery
Click a thumbnail to see enlarged image.